ABOUT GLACIER FRESH CHERRIES
Glacier Fresh Cherries is a family run and operated cherry orchard and custom packing house. We started as most people do…with a dream. Our mission is to grow and ship the best quality cherries possible.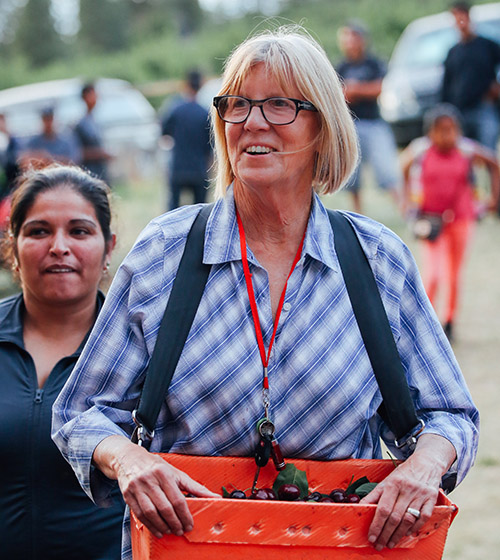 MARCIA ZIMMERMANN
Owner/Harvest Manager
Marcia started in the restaurant business, focusing on health and quality, and has made many restaurants successful over the years. She lives in Dallas, TX and runs her own insurance business spending her summers in Montana. Her entrepreneurial spirit led her to Montana and the east shore of Flathead Lake successfully growing large, gorgeous premium cherries and exporting them all over the world. She loves the mountains and spends time bird hunting with her dogs and husband Kevin.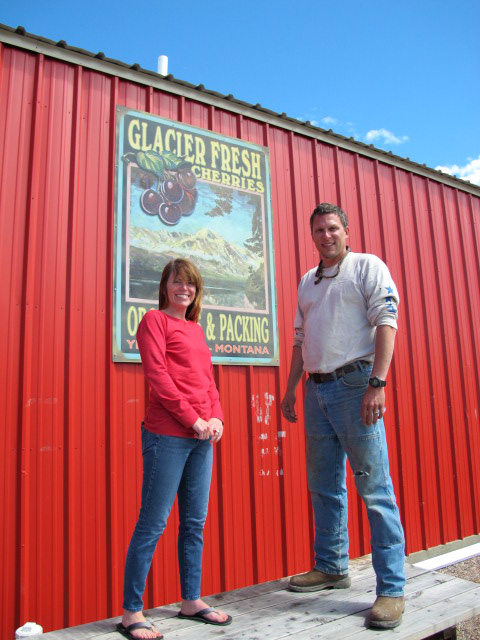 CODY HERRING
Chief Operations Manager
Sales@glacierfresh.net
Growing up in the Dallas-Fort Worth area Cody never guessed he would be a farmer. Studying Civil Engineering at The University of North Texas, drafting and building custom homes in Dallas, took up all his "pre-Montana time". Cody grew up sailing, exploring and traveling to Colorado every time he could, so the move to Montana was an easy fit. After his first harvest he was hooked. He has traveled all over cherry country and learned from the best. Over the past 17 years Cody has become somewhat of a scholar in the cherry world himself. He knows how to grow and pack cherries that are now considered one of the top cherry brands in the world among our international clients.
DUSTI HERRING
Operations Manager
Shipping@glacierfresh.net
Dusti grew up in Texas and loves the outdoors as well. She has been working for Glacier Fresh since 2006. Over the years she has learned the business of farming cherries, design and marketing, compliance with Global Gap and multitude of inspection requirements in order to ship internationally and to customers who demand a premium product. Dusti works with our brokers and buyers to ensure that the Glacier Fresh brand remains untarnished.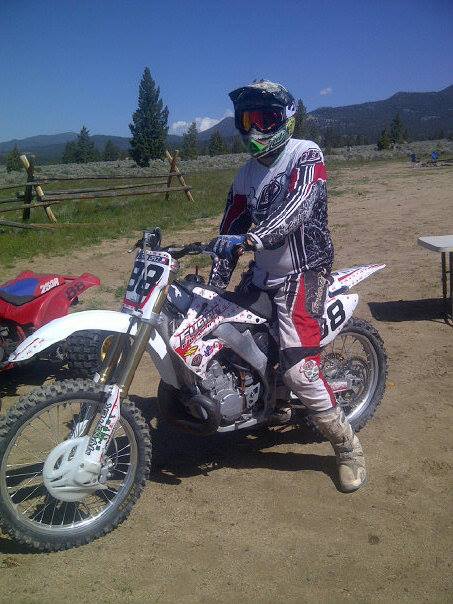 JUSTIN LOPEZ
Orchard Manager
Justin is a native Montanan. He has been with us since 2009. He has become part of our family over the years and is critical to our company. He has his hands in every aspect of the orchard and harvest. When he isn't helping us grow beautiful cherries… he enjoys spending his free time outdoors camping and motocross racing!
Our team is a tight group of professionals, families and friends that come together every year and work as a "well-oiled" machine. We love the energy at Glacier Fresh when cherry season is in the air! From tractor drivers and harvest managers, to packing house mechanics and truck drivers… our team takes pride in their work. We know that Glacier Fresh is one of the premium brands on the market. We have a reputation to uphold and every piece to the puzzle is important! We make sure our workers feel like family.